Glamping-de-luxe in the Alps. Camping in a luxurious way
Of course it remains to be seen whether we can actually go abroad this summer, but if we can, Austria is a good idea. Today an article about camping in a luxurious way or: Glamping-de-luxe in the alps.
Just over the German border in Austria
Drive across the German border into Austria and you are in the Tyrolean Zugspitse arena. Here you have plenty to do as a holidaymaker. And is the ideal place for families with (young) children. Here you can enjoy the mountains, freedom and action.
Something for everyone.
Glamping-de-luxe
Want to camp, but with a little luxury? Then the five star camping of the Zugspitz Resort is the place to be. This resort was recently expanded with 45 new camping sites.
This brings the tally to 175 terraced sites. There is more good news: recently, all camping guests can use the many facilities of the beautifully renovated Zugspitz Resort. And that makes the campsite a real glamping-de-luxe.
Kids club and more
What facilities are there: Among other things you can use the 1500 m2 Spiele & Wasserwelt with swimming paradise, indoor pools, saunas, steam bath, salt cave and rest rooms. Also at your disposal are the cozy hotel bar, cozy restaurants, camping store and fitness room. Camping guests can use the indoor adventure world with cinema, climbing wall, go-kart track and play & chill area.
There are daily activities in Didis children's club for children as young as three years old.
Beautiful location of the campsite
The campsite is really in a wonderful place, at the foot of the Zugspitze near the valley station of the Tiroler Zugspitze cable car. Now I can only see the pictures's of this beautiful location, but here as a hiker and climber I am made happy by the these images. What a wonderful place to camp. From the campsite you have a view of immense mountain peaks, forests and green alpine meadows. The pitches are partly in a pine forest.
Campfires may be built and electric bicycles are available for rent. In the summer you can hike through magnificent panoramas, mountain bike through the mountains or climb up one of the 130 climbing routes. You can also take the elevator to the top for an unforgettable view at 2962 meters altitude. And tired of all that walking or cycling?
Then you can relax with everything this glamping-de-luxe has to offer.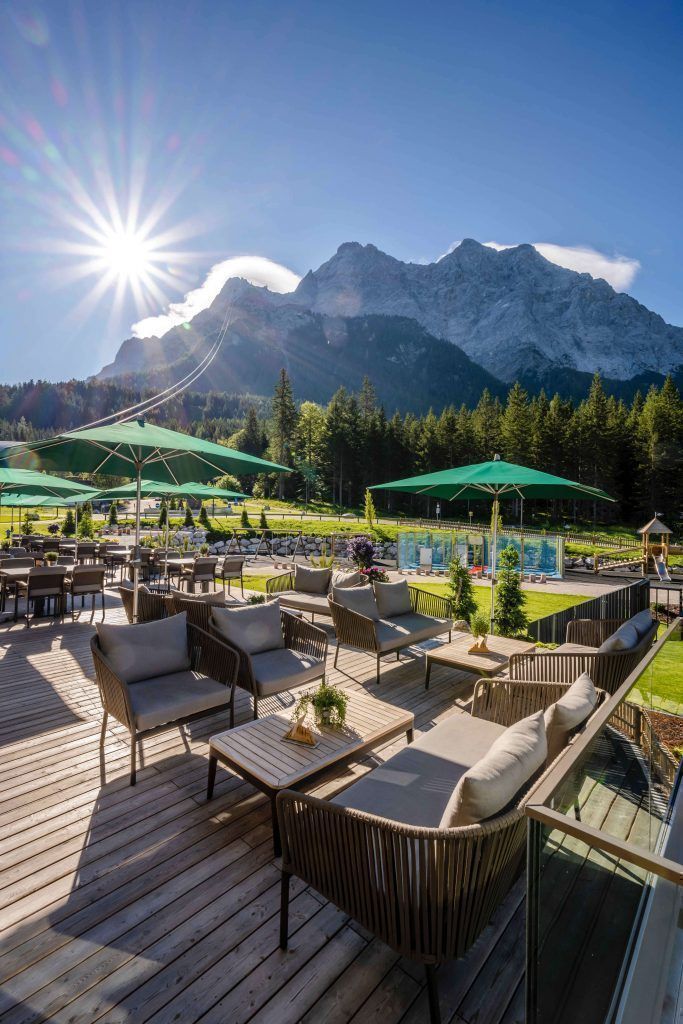 Bathing in luxury
The new main building or Deluxe-Badehaus of the campsite is built in modern alpine style. It offers 35 modern bathrooms with bathtubs and double sinks. In the well-equipped kitchen with dishwasher and refrigerators you can prepare the most delicious meals together.
Combining action and conviviality this summer
Would you like to combine an active vacation with lots of space and cosiness this summer? Then drive to the Austrian town of Ehrwald, just across the German border and easily accessible by car. Here you can stay at the campsite, in the hotel or in one of the family apartments of the Tiroler Zugspitz Resort. Ideal for active families.
On the website www.zugspitz-resort.at you will always find a suitable package.
All information
A family vacation in beautiful Austria
Although we have not been able to climb for almost a year, we certainly hope to do so this summer vacation. Two years ago we were in Austria and enjoyed the many hiking areas and climbing routes. I do not know yet what the summer will bring us this year and personally we are more primitive when it comes to camping and I will not quickly go to a five-star campground, I can well imagine that this glamping-de-luxe can be an experience out of thousands.