Mother's Day gifts – buy or craft for mom and grandma
Mother's Day gifts! For you as a mother, but also for your own mother. You can craft something yourself, but perhaps not feasible, therefore Mother's Day gifts to buy or craft yourself!
We live in a strange time
Children will go back to school on Monday 11 May. Mother's Day falls a day earlier. There will be no crafts at school this year.
Still, we might earn it extra this year. I don't know about you, but every day with the boys is fun, but also hard. How are you as a mother?
Do you sometimes have the idea that you have to keep so many balls in the air.
You help the children with school, you are also at work and then indoors all day, with that beautiful weather? But also think of your own mother. Haven't seen her in weeks and been able to hug.
They are currently strange times and it is good to think of ourselves and each other.
Make or buy Mother's Day gift
Of course it is always nice to make a Mother's Day gift as a child, that tension of hiding in your bedroom and then that moment you can give it. But even though children are not getting to school this year, maybe we can do something at home, for you and for grandma. Because although we can't go there, we can send something or put it in front of the door.
Mother & Daughter's bracelet
And you can do tinkering, buying a Mother's Day gift is of course also possible. Maybe a nice tip: a mother & Daughter Bracelet from My Jewelery. Last year I gave this to my mother as a gift for Mother's Day.
And we both wear this every day and uses this normally as special, knowing that we both wear it. Now that I can't see her for so long, completely.
" MAM, I love you, exactly as you are!"
But there are more nice jewelry brands where you can buy a Mother's Day gift online. Mother's Day is the perfect moment to put the sweetest mums in the spotlight: a breakfast in bed, lots of kisses and hugs and of course an original gift. CRE8 and Turina Jewelery developed in collaboration a two special chains that remind mothers that they are good as they are.
All the kids have to do is draw a heart. This heart is then made exactly as drawn with the laser cutter of CRE8.
This creates a unique necklace for every unique mom.
One concept, two products
The chains are available in two versions: the #lovedbyme Necklace for Mom and the #oneheart Necklaces for Mom & Daughter. Both chains are available in Sterling Silver and Gold-Plated brass. The heart pendant is available in the colors matt black, neon-red, powder pink and iride (rainbow effect).
Up to three hearts can be found on the #lovedbyme Necklace for Mom! Where every heart is drawn by another child. Super fun to surprise together with brother (s) and/or sister (s) mama. Price: 39.00 – 45.00 euros
#oneheart Necklace for Mom & Daughter. A beautiful mother daughter jewelry and symbol for the special bond between mother and daughter. Here too, Daughter draws her own heart, which will then be cut exactly the same and of which two unique chains will be made: one for mother and one for daughter.
Tinkle
Crafting is something that has been frequently done in many households lately. Both for school assignments and ordinary as relaxation. Sometimes it's just a nice way to keep children busy, so you might just be able to get rid of those emails or do something about the household.
It is also super fun to make something together for Mother's Day. Maybe the fathers can work with the children for a nice gift for you, but crafting for grandma together with the children is of course also great fun. Because maybe we can't hand this over in person. Sending something is of course also a nice surprise.
Because I know everyone is very busy, here are a few easy Mother's Day gifts that don't take a lot of time and don't require much:
Make a calendar for Mother's Day
A nice and lasting Mother's Day gift, which is of course also nice for grandma, is a calendar. What you need is photos and/or drawings. The calendar can be used for years.
What do you need:
6 (coloured) sheets of cardboard.
12 photos or drawings
hole puncher
rope
ruler
pen
How are you:
1.Cut 6 sheets of cardboard to the same size and place a photo or drawing on top of both sides. 2. Write the months on the paper. January and February on one side, March and April on the back, etc. 3. Make lines for the days with a ruler and put the days here.
4. Use a hole punch to make holes at the top of the calendar and thread a string through them.
5. Children can of course also decorate the calendar with stickers etc.
Wake up jar with chocolate
A mother can always surprise you with something delicious. Nice to make and to give is a wake-up jar with something delicious in it. Maybe you still have a wake-up jar somewhere at home.
Decorate this fun, color it with markers, or paint and stick with stickers and put some chocolates in it (or anything else mom or grandma likes).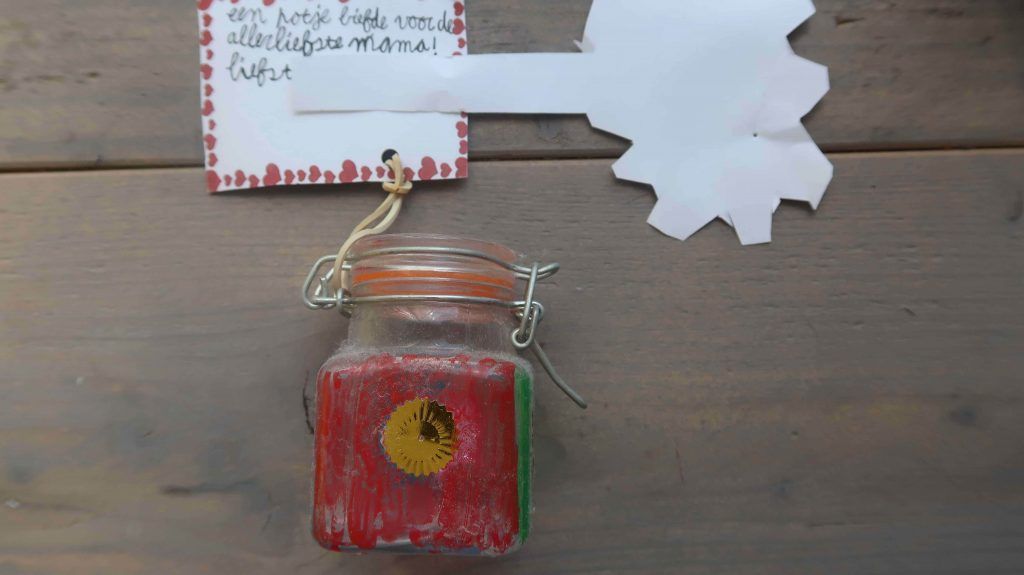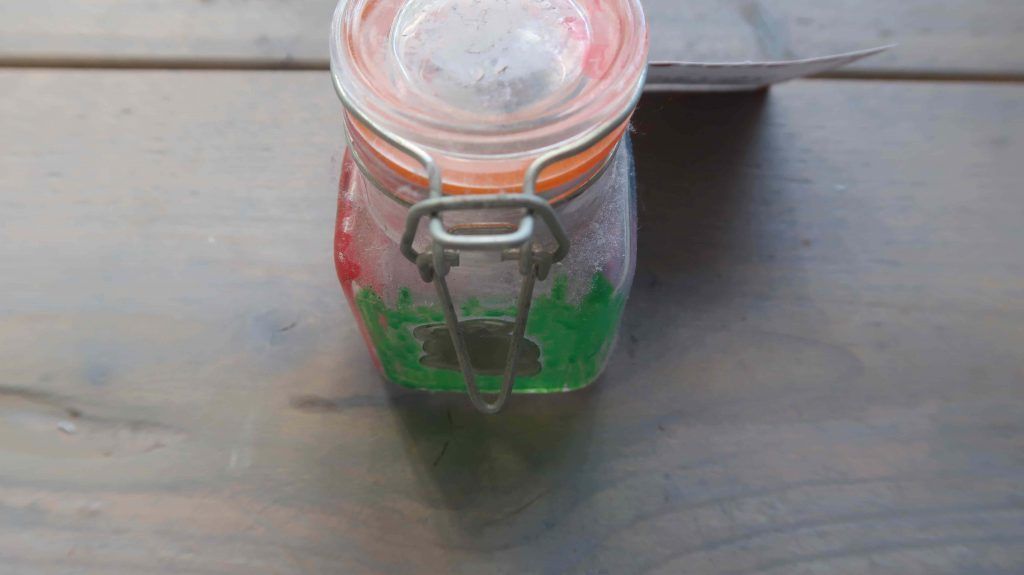 Paint a vase for Mother's Day
A wine bottle is the following what we need to make a vase of this, for Mother's Day:
What do you need for this and how do you make it
empty wine bottle
paint
brushes
Super easy to make and fun to give. Paint the wine bottle with paint. Gouache paint is perhaps the easiest paint to use for this, because it covers well!
Fill it with a homemade flower or buy a single flower for mom or grandma.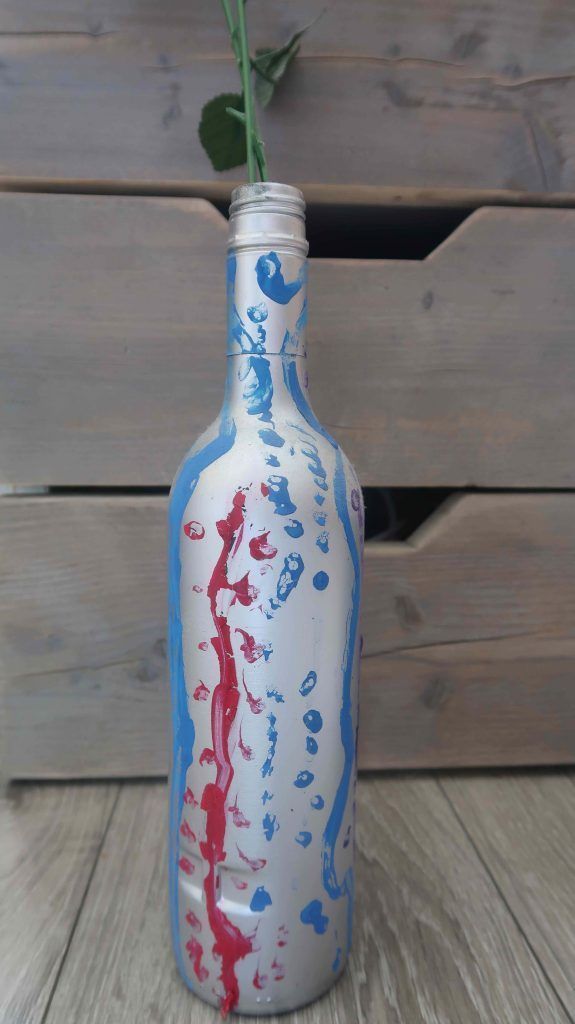 Make paper flowers
And if you have made this vase, you can always put homemade paper flowers in it. On Pinterest you will find a lot of (from easy to difficult) ideas for this!
Do you have more great tips for a Mother's Day gift?
So whether you are going to make or buy something for Mother's Day, maybe this year is just a little extra that you want to put her in the spotlight.