Rainbow High- The latest range of fashion dolls gift tip
Rainbow High expands its color palette and comes with a new range of fashion dolls, a winter makeover a must-have convertible. Of course, for all Rainbow High fans, these are the gifts that will be on the wish lists this December month. What's new, you can read about it here.
Rainbow High is a series of modern fashion dolls that encourage imagination and creativity, because the world of Rainbow High is all about creativity, fashion, designing and creating! Meet colorful personalities with their own unique, fashionable style and bold vibes. With Grit (strength), Love (love), Action (action) and Moxie (guts) (G.L.A.M) the characters of Rainbow High combine their unique creative skills and work together to make their limitless dreams come true today.
This winter the color palette will be expanded!
Down the slopes in style with Rainbow Heigh
How nice is this! The six original fashion dolls get a winter makeover so they can glide mega-fashionably down the slopes with their friends. Each fashion doll is dressed in her favorite color and has her own unique style that you see reflected in her outfits and winter sports gear.
This winter vacation play set includes fashion doll, 2 complete doll outfits, 2 pairs of doll shoes, essential doll accessories such as snowboots, beanie and snowboard with real working bindings and comb.
You can also use the snowboard as a winter-themed doll stand. And now collect the rainbow! 6 Winter vacation fashion dolls: Ruby Anderson, Poppy Rowan, Sunny Madison, Jade Hunter, Skyler Bradshaw and Violet Willow.
Meet a completely new series of Rainbow High fashion dolls
But this winter makeover is not all. After all, there is a whole new series of 6 fashion dolls:
Gabrielle Icely
Gabrielle is dressed from head to toe in light blue (ice cream). She has an eye for fashion and loves designing fabrics. Her ice blue looks are fresh and striking. She wears a knit turtleneck, a metallic skirt with rainbow belt with charms and snake print boots.
Her second outfit is a dress with holographic screen print, a jacket with snake print and high heels with straps.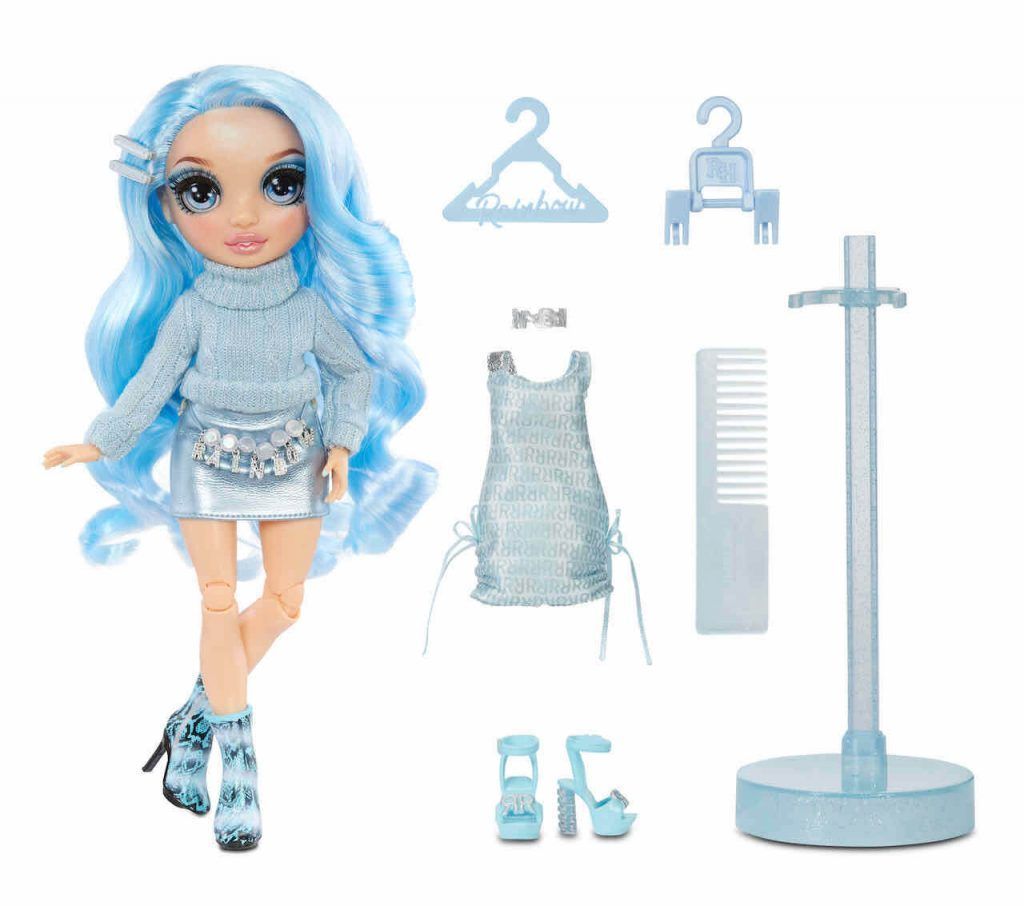 Daphne Minton
And then Daphne, Daphne's main subject is accessory design. For her fresh looks, she chooses her accessories carefully. She is dressed from head to toe in light green (mint). She wears a satin jacket with stylish graphic print, a knit top, tweed skirt with a silk-screened organza scarf and high heels with straps.
Her second outfit is a two-piece set in faux-quilt look, graphic print T-shirt and high heels with straps.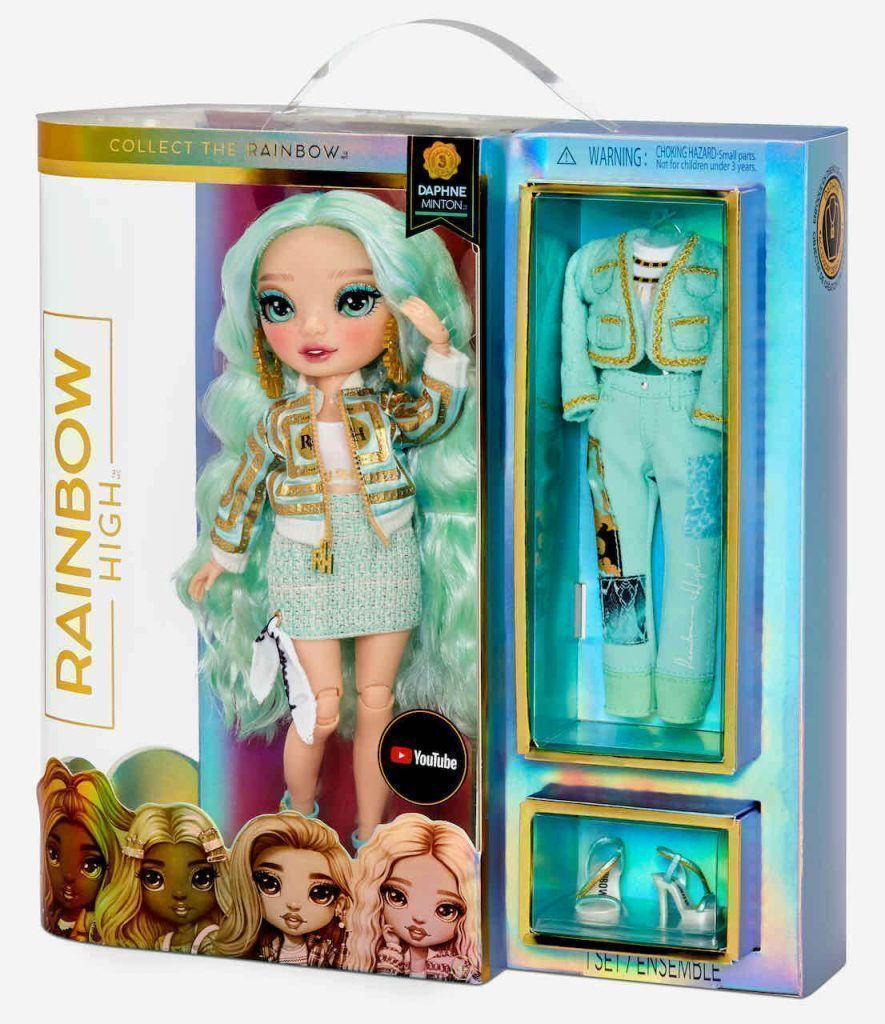 Georgia Bloom
Georgia is no average debutante. The main subject of this 'Southern Belle' is performing arts and she is not only sweet, but also quite spunky with a talent for drama. She is dressed from head to toe in light orange (peach). She wears a knit cardigan, peachy tight top with embroidery, graphic screen printed jeans and platform sole sneakers.
Her second outfit is a printed patterned two-piece set featuring a twill top with unusual buckles, matching skirt, purse and sneakers.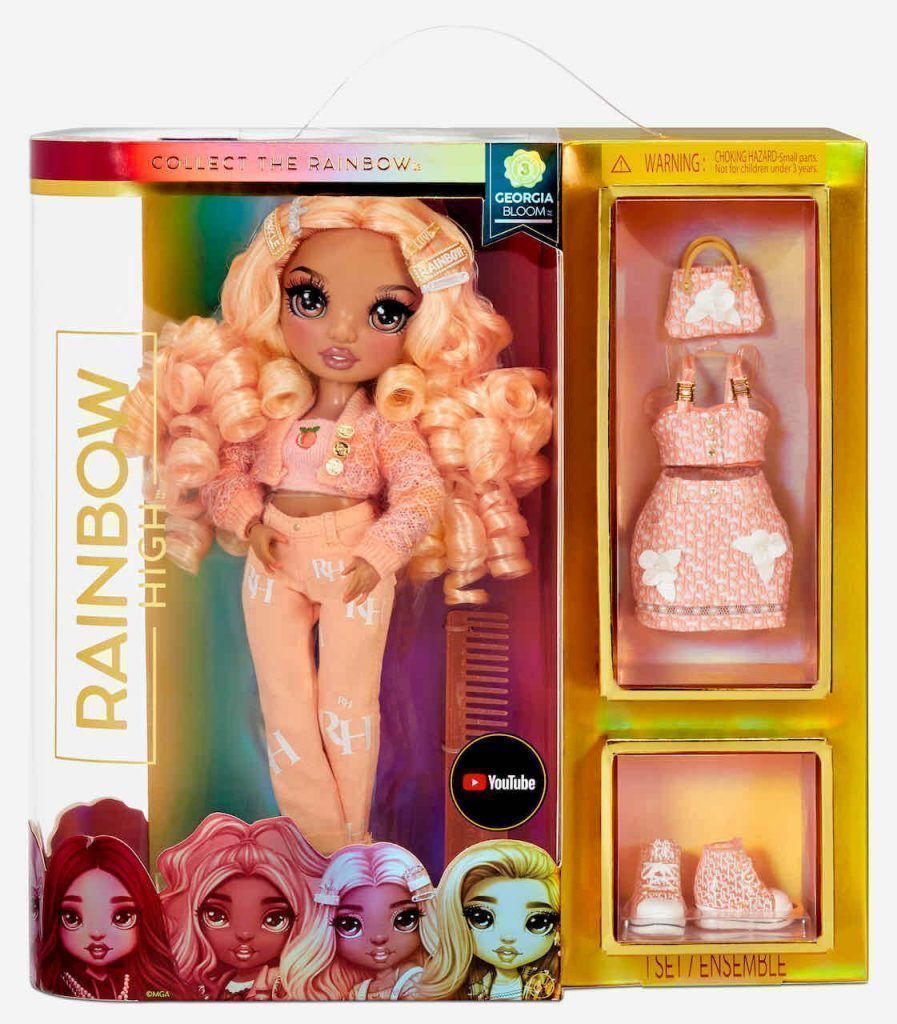 Sheryl Meyer
Sheryl can be recognized by her beautiful, yellow color (marigold). Sheryl's passion for textile design comes alive in her stylish fashion and her flair. She wears a yellow, plaid twill dress with belt, buckle and jacket with unusual buttons, a T-shirt, white chiffon knee socks and Mary Jane shoes.
Her second outfit is a transparent long-sleeved chiffon top, yellow sleeveless sweater, print skirt and strappy heels.
Emi Vanda
Emi focuses on the visual arts and is fully dressed in purple. She loves to show we through her art and fashion and sets trends with her mysterious, bold looks. She wears a stylish hoodie, pleated skirt and a pair of cool, knee-high boots.
Her second outfit consists of a graphic print shirt with long sleeves, a short sweater, skirt and heels with ribbons.
Daria Roselyn
And finally Daria. Daria is dressed from head to toe in rose red (rose). Daria is enchanting as a flower with tantalizing, adorable fashion.
Daria's main subject is music, so she is always ready to step on stage and sing the stars from heaven. She wears a half pink, half black denim jacket with rose embroidery, a T-shirt, a metallic graphic print dress, rose print socks and a pair of trendy worker boots. Her second outfit is a two-piece set with pinstripe and embroidery with a long-sleeved top and matching skirt, high heels with straps and a purse.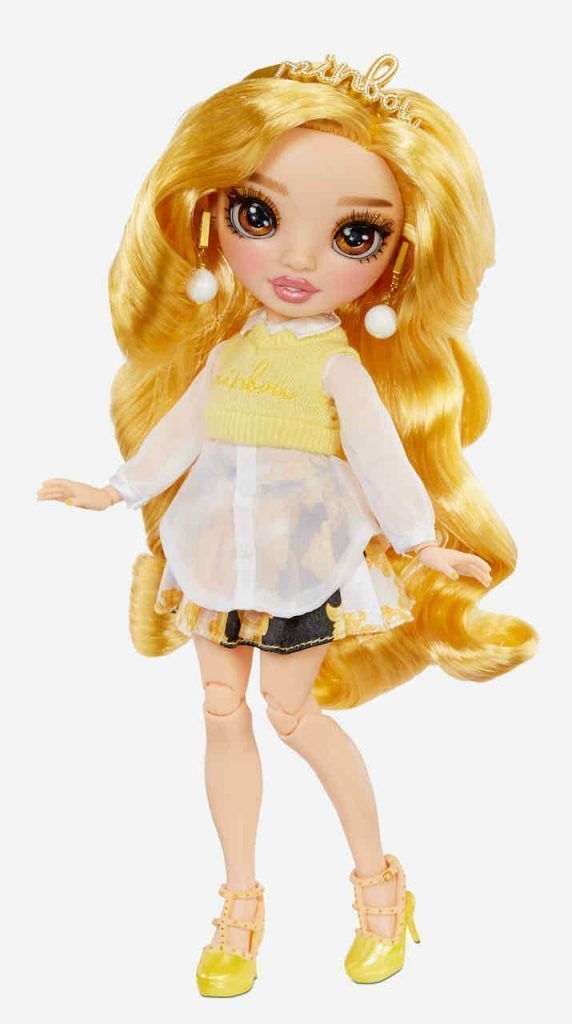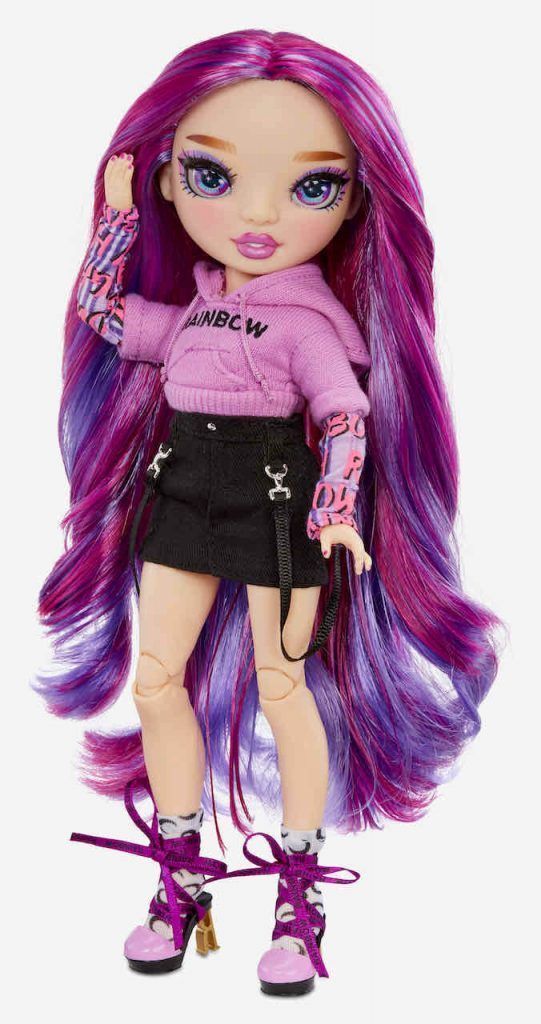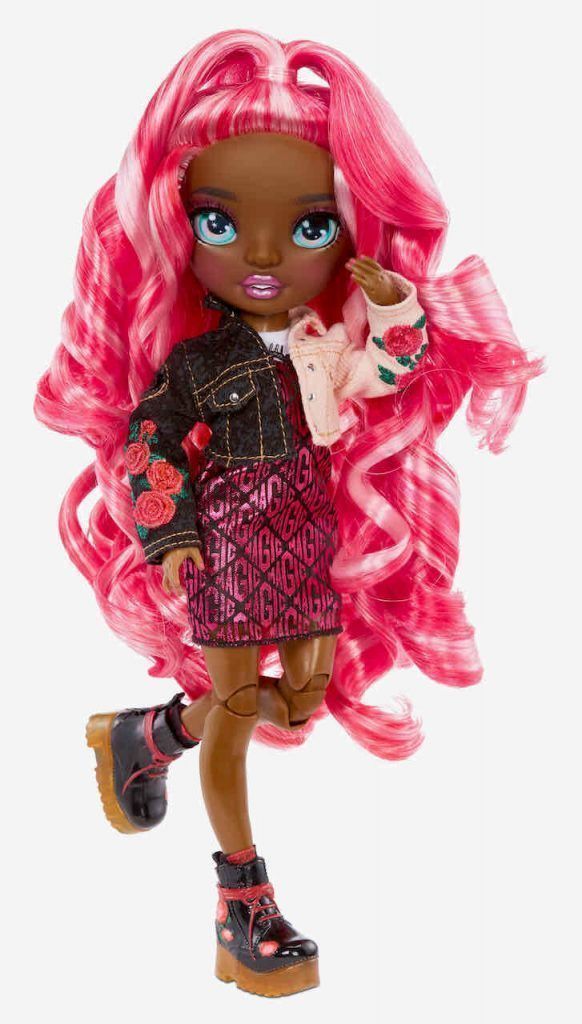 You can find this and much more Rainbow High here
Stimulate the imagination when playing
All fashion dolls come with fashion doll, 2 complete doll outfits, 2 pairs of shoes and doll accessories: doll comb, 5 hairpins, 2 clothes hangers and a doll stand. Put on her any look or mix and match the outfits and accessories. This stimulates your imagination and allows you to make up stories for extra playtime fun.
Their limbs are fully bendable. So you can put the arms and legs in all sorts of glamorous poses or display them on the included doll stand.
Out and about with Rainbow High
Take your favorite Rainbow High dolls for a ride in the Rainbow High™ light-up convertible with 8-in-1 color change. Because why be satisfied with one car color when you can have a rainbow of colors? Rainbow High™ Car is a sporty two-seater convertible with room for 2 Rainbow High fashion dolls with real working seat belts to protect your dolls.
The car is initially white, then you can choose any color of the rainbow (white, red, orange, yellow, green, blue or purple) or browse through all the colors! You can make the LED lights change color by pressing the gold button on the hood of the car to choose your car color.
Each color automatically turns off after 30 seconds to save battery power. Drive around the corner to your favorite chill spot using the real working steering wheel and moving wheels. Rainbow High logo details, silver trim accents and grille. A personalized license plate provides distinctive style.
To get your dolls in and out of the car in a super easy way, you can raise and lower the steering wheel, open the seat belt from the waist and even remove the windshield if you like.
You can find this Rainbow High car here
Watch the animated series on YouTube and Netflix! Search for 'Rainbow High Dolls'
For the wish list
With all the tips you can find here lately you can fill whole wish lists. And I understand the kids of this day and age, too, because what fun these Rainbow High fashion dolls are saying. Just Like After! After! After!
Surprise or the cutest LEGO sets shouldn't miss these on wish lists anyway.