Good for your health- Gingers from Frecious Slowjuice
Did you know that ginger is incredibly healthy and can easily be drunk in beverage form?. Ideal now that it is getting colder outside and we all like to keep up our resistance. Maybe you already know Frecious Slowjuice by name or because you order healthy products here more often. They now have two new powerful ginger drinks that support health.
Brave the autumn days with the new Gingers from Frecious!
How to go into the fall healthy
Maybe you already know Frecious Slowjuice, use their healthy products or know them by name. For me this is my first taste of both Frecious Slowjuice and ginger drinks. Now that it is autumn again and it is getting colder you can use some extra vitamins.
Me too and that's why I really wanted to test these gingers. The ginger drinks from Frecious Slowjuice make it easy to make a big glass of tea or kick start the day with a ginger shot.
What are these new Ginger juices
Ginger already has a prominent place within various slow juices from Frecious and for the real ginger freaks, there are already the ginger health shots as well. To stay in the ginger spirit, Frecious Slowjuice puts an innovative twist on the slow juices with the Holy Ginger and Cranberry Ginger.
Holy Ginger
Holy Ginger is a potent premium quality ginger drink supplemented with turmeric. No concentrate, no water, no added sugars. Holy Ginger is not heated, it's a raw screwed slowjuice, frozen immediately.
So you store them very easily in the freezer and n a thaw it stays good for 7 days in your fridge.
From one bottle of Holy Ginger you get 8 to 20 healthy ginger drinks, depending on your serving size.
Ginger 71.5%
Lemon 23.4
Turmeric 5.1%
Berry Ginger
Berry Ginger is a premium quality ginger drink supplemented with cranberry, pineapple, lemon, basil and rosemary. No concentrate, no water, no added sugars. Berry Ginger is made from organic ingredients.
It's not heated, just raw screw-pressed slowjuice, frozen directly and thus also great to store in the freezer.
Ginger 37%
Cranberry 32
Pineapple 18%
Lemon 11%
Basil 1%
Rosemary 1%
How to drink these juices
You can serve these potent ginger drinks in many different ways; think of it as a daily potent ginger shot or as a refreshing addition to your glass. How to serve these drinks:
Drink it with tap or sparkling water.
Make tea of it and replace a tea bag for 3 to 5 ml ginger juice.
Have a nice party planned? Go for a mocktail with pineapple juice, tonic and one of the Gingers of your choice.
What is Ginger good for??
Ginger is a versatile spice and is known for its powerful effects. From 0.5 to 2 grams per day you already benefit from the properties of ginger. With a daily serving of 5 ml as in this ginger, you'll get enough in.
The ginger drink is strong, intense and organic.
Make some ginger tea
I normally drink tea all day long. Since I have the Holy Ginger and Berry Ginger from Frecious Slowjuice in my home, I once substitute my loose tea for a glass of ginger tea. I put 5 ml ginger drink in warm water, for me personally this is strong enough.
Because the ginger flavor is strong and intense. I find the ginger very tasty with cold water too, by the way, although with these temperatures right now I prefer hot tea.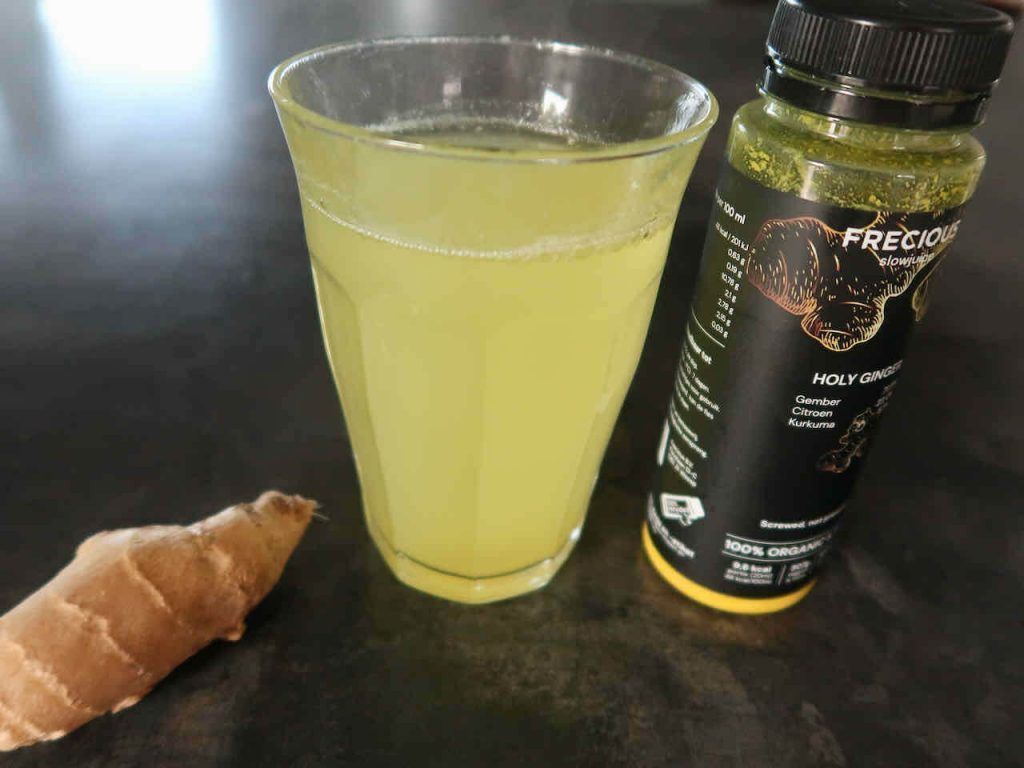 Even more combining
On the Frecious Slowjuice site you will find surprising recipes with these Ginger drinks. So you can find Fresh Beet dressing with Berry Ginger or Holy Ginger sauce for with curry I make the Chai Holy Ginger Latte from the site here. Now I did not have all the ingredients in the house ( I did not have maple syrup or almond milk in the house, but instead of almond milk I took Soya Drink ). I can say, this is delicious!
Chai Latte combined with the Holy Ginger, nice and strong with a sweet taste from the cinnamon! Super easy to make and delicious! Highly recommended!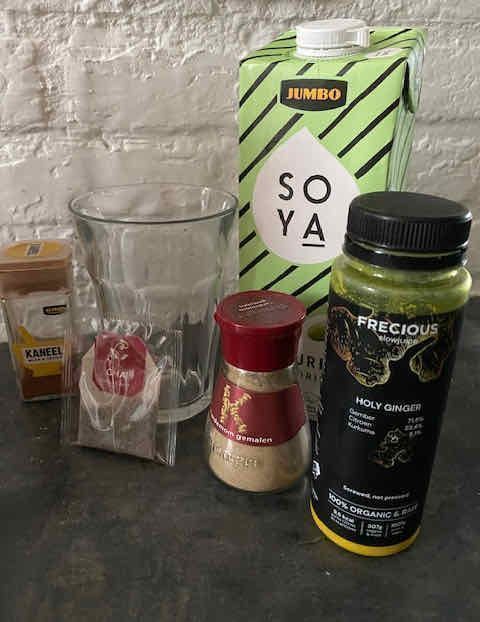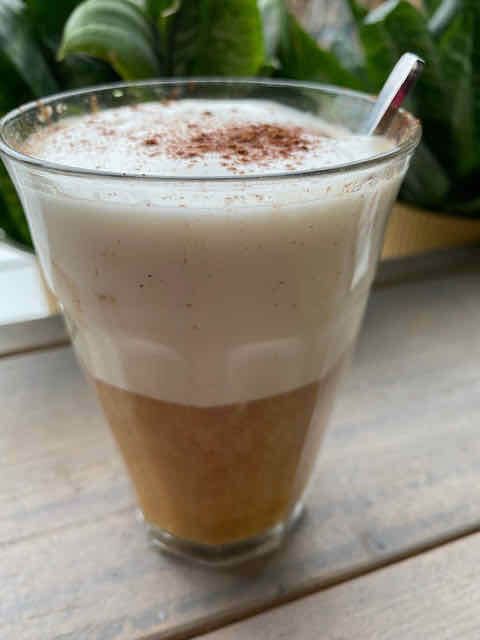 You buy a Ginger Box with 5 x Holy Ginger and 4 x Berry Ginger for € 69,00 at Frecious Slowjuice. But they have a lot more. At Frecious Slowjuice you have a very large choice of healthy juices, think of a Daily Box, a Family Mix Box, a Beauty Box or a detox juice cleanse.
There is enough choice for everyone!