Difrax introduces a special Glow in the Dark soother collection for CliniClowns.
A smile on the face for big and small with a festive Charity teat. Yesterday just before the opening of the nine-month fair in Amsterdam, Difrax introduced the limited collection of Glow in the dark soothers for CliniClowns.
Difrax soothers and the Clinicclowns
The nine-month fair was the place where the first Glow in the Dark pacifier was handed to singer/presenter Tim Douwsma. Tim has just become a father and is very supportive of CliniClowns.
Support sick children with a soother
By purchasing one of these festive soothers, you are supporting sick children, children with disabilities, as well as people with dementia. For every pacifier sold, Difrax directly donates €1.- donated to CliniClowns to provide distraction, joy and a smile!
The cheerful collection
The CliniClowns pacifiers can be recognized by the transparent butterfly-shaped shield with cheerful confetti. The center of the teat is Glow in The Dark making it easy for parents to find the teat at night. The CliniClowns pacifier is available in five different sizes from premature to 18 months plus.
They grow along with the sucking need and the face of your child.
The limited collection of pacifiers will be exclusively available from March at Albert Heijn, baby specialty stores, Wehkamp, CliniClowns.nl/shop and difrax.com. For every pacifier sold, Difrax donates 1€ to CliniClowns.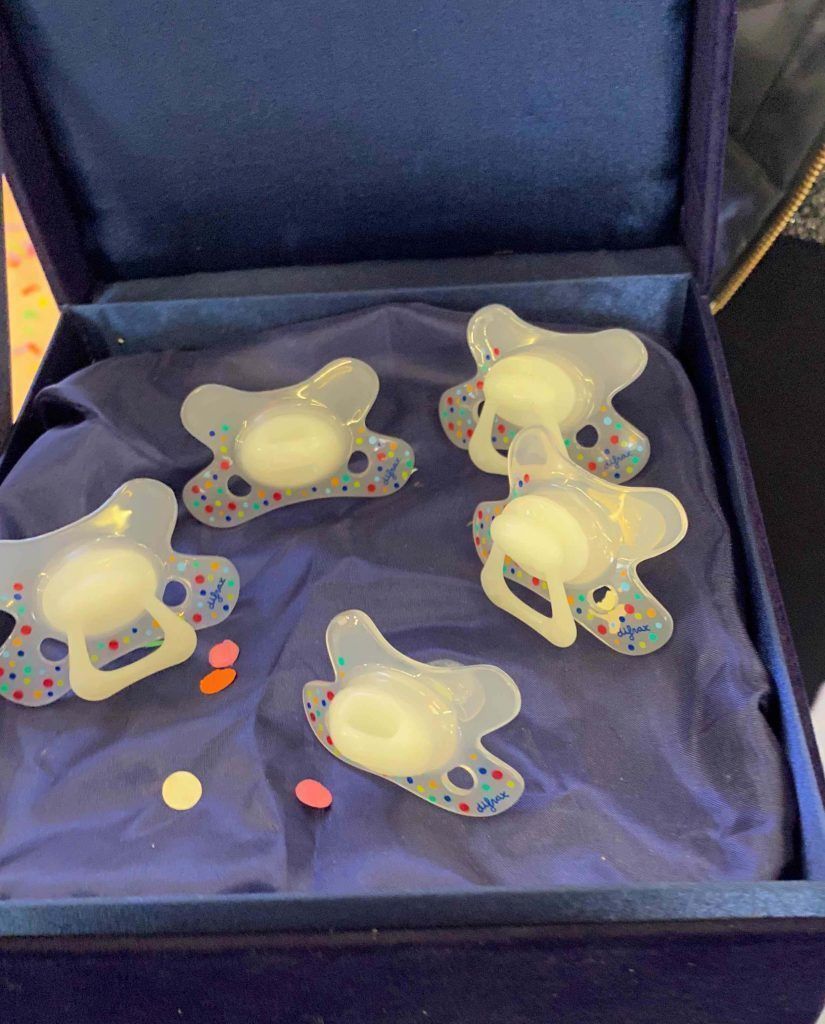 Difrax in a nutshell
Difrax, founded in 1967, is the Dutch leading brand of baby products and market leader in the baby bottle and soothers segment. Standing in front of 'A Little Help', focusing on parents and their most precious possession. Because nobody knows exactly how it works when you get a baby. Every baby is unique, and so is their approach to parenting.
At Difrax they understand this and that's why all our products are designed to help parents every step of the way. Because every little helps, even when it comes to parenting.
The extensive award-winning range can be found worldwide at baby specialty stores, drugstores, pharmacies, department stores and on www.difrax.com
Yesterday I attended the Negenmaandenbeurs together with 12 other bloggers. On lodiblogt, there will be more information about this tomorrow. Here you can find all information about the Baby Innovation Award.